OK TRY TO THINK OF THE SCARIEST WORD IN THE WHOLE WIDE WORLD BOO IS VERY SCARY BECAUSE ITS SHORT AND CHOPPY AND ALL OF A SUDDEN YOU COME && LIKE BOO<3 AND NOBODY EVEN KNOWS WHY BUT ITS JUST SCARY CHAIN LETTERS ALSO SCARE ME TRY TO FIND ONE YOUTUBE VIDEO WITH OVER 1 MILLION VIEWS AND TRY TO FIND IT WITHOUT ONE LITTLE PLEASE DON'T READ THIS CAUSE IT WILL REALLY HAPPEN IF YOU POST THIS ON 5 OTHER VIDS YOUR TRUE LOVE WILL KISS YOU BUT IF YOU DONT YOU WILL DIE FROM A HEART ATTACK TRUST ME ITS REAL OMG I HATE THOSE THINGS THEYRE SO STUPID AND OMG I JUST PREVIEWED THIS PAGE AND I ALMOST WENT ALL ADD TRYING TO READ IT IT WAS SCARY AND BOY THERE GO MY PLANS OF FRONT HANDSPRINGING CUZ I HAVE LIKE SO MANY STRAINED MUSCLES ESPECIALLY MY LEGS BUT THERE IS ONE LITTLE KILLER ON MY SIDE IT TOTALLY BLOWS WOW YOU KNOW IF YOU PAY ATTENTION THIS IS ALL ONE SENTENCE SO IS THIS THE BIGGEST SENTENCE YOU'VE SEEN WHAT IS THE SCARIEST WORD BESIDES BOO VOTE IN THE POLL AND COME UP WITH YOUR OWN AHH IS PRETTY SCARY TO BUT IF SOMEBODY JUMPED OUT AND SCREAMED UNICORNS IN MY POCKET NO ONE WOULD GET SCARED BECAUSE ITS SOOO LONG and UNORIGINAL OMG WOW U KNOW WHAT I MEAN BUT IF SOMEONE JUMPED AND SAID KEEEE YOU WOULD SCREAM BYE.
_________________
Top 5 fave quotes!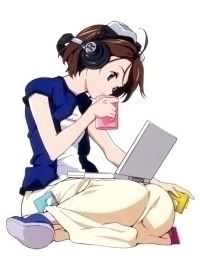 20 Q: "Can you use it in the dark?" me "WELL...."......
Tommy: "What do you weigh 900 pounds?" Hylo: "No, thats only a fraction of it!"
Josh: "I'm fighting Grandpa!"
Me: "Linkin park backwards is niknil krap!" Ruthie: "LOL"
Me: "Holy shoot! The tile just fell!" Tommyruthiejoshhylo: "You are in so much trouble!"